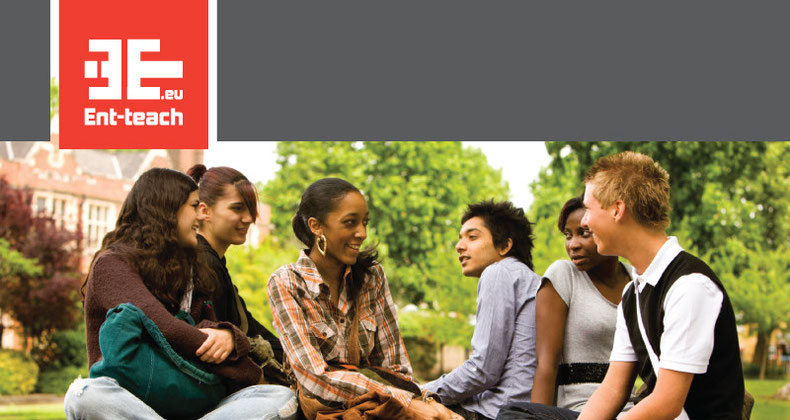 About the Project
We mean serious business
Ent-teach stimulates entrepreneurship teaching at vocational colleges and incubators by providing teachers/trainers with practical materials and tools to educate, inspire and motivate students for entrepreneurship. Students will be made aware of the possibilities to actually pursue a career as an entrepreneur and learn along the way. 

About the project and its products
On the www.ent-teach.eu platform there are 7 units available in 5 languages: English, Spanish, Dutch, Polish and Greek. 
All 7 units are supported by practical learning activities, videos, case studies and self-assessment questions to be used by the teacher/trainer. 
Ent-teach relates to the early phase of company creation: idea generation, opportunity recognition. It makes young potential entrepreneurs understand that everything can be a business. It also provides practical guidelines for market analysis, financial management, IPR and exit strategies. 
The materials are aimed at the vocational school teacher/trainer to be used in and outside the class room to engage students and to encourage them to pursue a career as an entrepreneur. Incubators could apply the materials to their vocational (level) pre-start-ups.
Use
By applying the results of this project in VET schools:  
Teachers gain insight to competences that are required to become an  entrepreneur
Teachers can involve entrepreneurs (former students) in the classroom and together address the students of today
Teachers can better interest, support and educate VET students to pursue a career as an entrepreneur
Project leader
Business Development Friesland, Netherlands
Project partners
- Nordwin College, Netherlands

- First Elements Euroconsultants, Cyprus

- Chamber of Commerce Barcelona, Spain

- Innovate, Ireland
- TRANSFER, Poland
- EfVET, Belgium
Ent-teach: a Life­long Learning Programme project

Ent-teach is developed as part of the Life­long Learning Programme, an edu­cational program of the European Union for the period 2007 – 2013. The goal of this program is to provide a contribution to the knowledge economy through durable eco­nomical growth, more and better job oppor­tunities and the increase of social connec­tions within the EU.
Project newsletters: 
Fill out the contact form to get in touch with us!

Ent-teach- Entrepreneurship Teaching - project code 2011-1-NL1-LEO05-05202. This project has been funded with support from the European Commission through the Leonardo da Vinci - Lifelong Learning Programme. This publication reflects the views only of the author, and the Commission cannot be held responsible for any use which may be made of the information contained therein.